Conti4x4Contact - 235/65R17 108V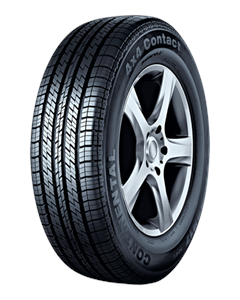 235/65R17 CO 4X4C[1]108VXL N1
For comfortable driving on the road and on gentle terrain
Excellent noise levels and comfort in on-road use
Good protection against aquaplaning
Superb traction both on and off-road
Excellent noise levels and comfort for on-road use
The tyre, specifically designed for SUV vehicles, ensures a particularly quiet and comfortable ride on normal roads.
Good protection against aquaplaning
The tread grooves protect against aquaplaning
Superb traction both on and off-road
The tyre provides improved traction both on the road and in moderate off-road use.
Original Equipment
Fitted as original equipment on: BMW X5, Land Rover Discovery and Volvo XC70
How we compare...
There are 6 reviews for Conti4x4Contact
Overall rating
28/03/2020

LAND ROVER DISCOVERY